Testimonials
Our mission—"Impress Every Client, Every Time."
We take pride in impressing our clients. For more than 27 years ABC Imaging employees have lived this mission. Today, we impress our clients at more than 30 regional hubs and in more than 100 other production hubs around the globe.
Read what our clients have said about our work.

July 2015

"Things went great, the check looked AMAZING! Thank you so much for the excellent service and quick turnaround!!"
CS
Gilbane
July 2015

"The books and 3-D print arrived not long ago… everyone is so impressed, excited, crazy over them.
They are already talking about how each of them wants their own copy of the book… and the engineers haven't stopped touching, staring, picking up the model.
Thanks so much guys!!!!"
AS
Michael Baker International
July 2015

"Your turnaround time of 1 day for all the wrap binders was truly astonishing, and the quality is top notch… a beautiful product.
We now consider you our number one print vendor for the West Coast, and look forward to doing more business with you in the future."
SE
Parsons
July 2015

April 2015

ABC Imaging's 3D Printing group received the following note for a Color-Jet Print of one tile of a few city blocks with elevated train tracks and a tower massing model piece.
"I've just [gotten] the site model. Scale and colors look perfect!"
YL
GHWA
April 2015

"ABC has provided us with us with excellent service on numerous business card orders. We are incredibly happy with the quality, cost, and turnaround on all our orders. We would happily recommend ABC."
DS
Henry Adams Consulting Engineers
April 2015

July 2014

I wanted to let you know that we were very impressed with the speed of service for the copying of a large city assessment map. The courier arrived almost before I had made it ready to go and it was returned the same morning. Looks good too!
LH
J Street Companies
July 2014

February 2013

On behalf of all of us (yes, all 5 staff and our 500 guests), BIG THANKS to you and your staff for working with us. We sincerely appreciate everything you all did to provide us with excellent customer attention, quality products, quick turn-around and great prices too. It made a huge difference to our state-of-mind knowing we could rely on ABC Imaging.
SP
ICBA
February 2013

January 2013

Langan was required to submit a 3D model of the proposed Lowe's to the City of Norwalk, Connecticut during the permitting process. The model came out great and was well received by both the project team and city officials. Langan will definitely utilize ABC Imaging's 3D printing technology for models in the future!
LM
Langan
January 2013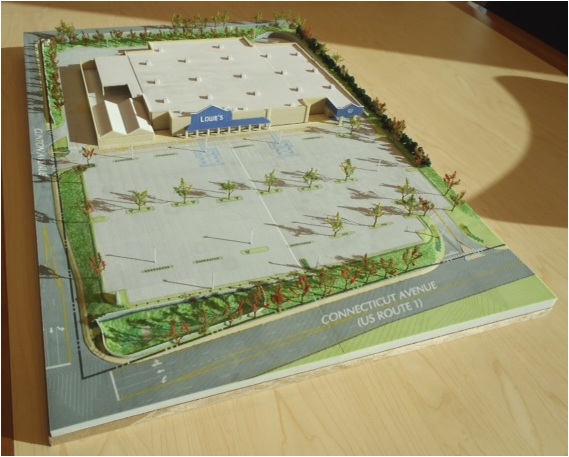 Thanks to you and your team for all the help yesterday. Y'all really went out of you way for us and our proposal turned out great. I came back to your shop around three and your team bound a couple copies for me too!
Thanks again, please extend my gratitude to your whole shop (Bellevue and Seattle).
BM
Turner Construction Company
January 2013

2012


2011


2010