ABC Imaging operates conveniently located regional hubs in major metropolitan areas in North America. We continue to add hubs as we grow, and including international hubs in Europe, the Middle East, and, soon, Asia.
Our regional hubs give you the convenience of our IT network. This network enables us to send your prints wherever you need them, whenever you need them.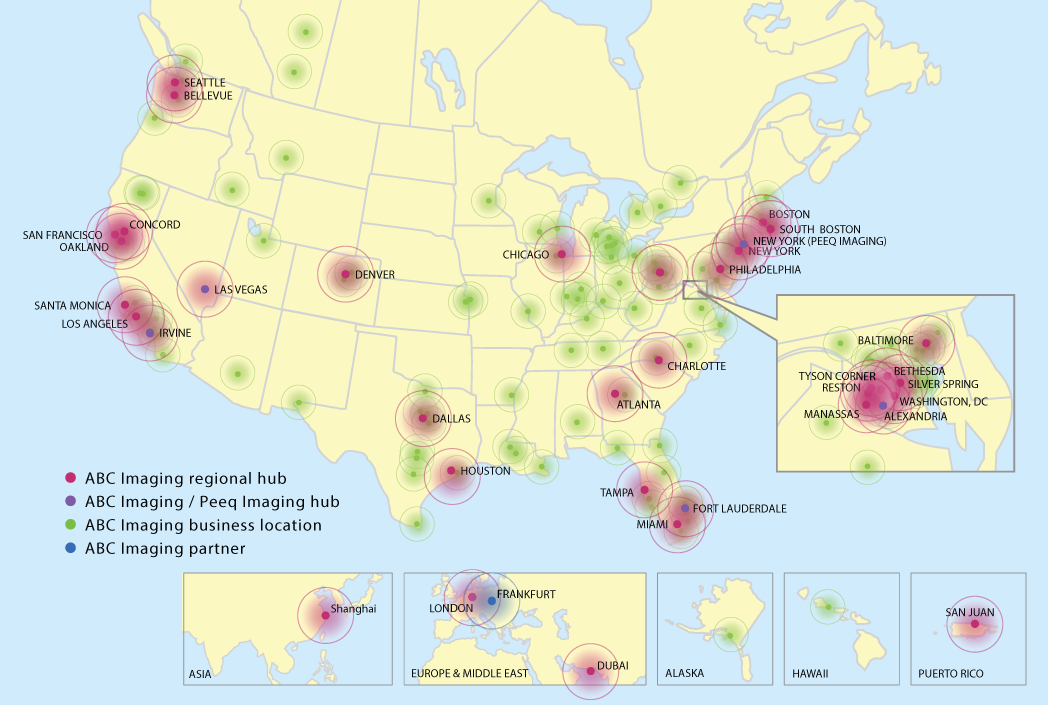 ---
Use the directory below to contact or visit a regional hub near you.
Corporate Headquarters
5290 Shawnee Road
Suite 300
Alexandria, VA 22312
p: 202.429.8870
f: 202.429.9136
Headquarters@abcimaging.com
---
Global Hub Locations
Dubai, UAE
International Media Production Zone
Suite B36
PO Box 502773
Dubai, United Arab Emirates
p: 971-4 428 1323
f: 971-4 428 1322
Dubai@abcimaging.com
Frankfurt am Main, Germany
London, UK – City Office
City Pavilion
33 Britton Street
London EC1M 5UG
p: +44 (0)20 7253 4311
f: +44 (0)20 7553 3909
city@abcimaginguk.com
San Juan, Puerto Rico
Shanghai, China
276 Gaoji Rd. #91, 1/F, Building 6,
Sijing, Shanghai 201601, China
p: +86-21-5762-8104
m: +86-1376-4378-208 (Chinese)
m: +86-1391-6397-222 (English)
f: +86-21-5762-8745
Shanghai@abcimaging.com
---
U.S. Regional Hub Locations
Alexandria, VA
800 Slaters Lane
Alexandria, VA 22314
p: 703.683.2080
f: 703.683.5298
alexandria@abcimaging.com
Atlanta, GA
1430 West Peachtree Street
Suite 105
Atlanta, GA 30309
p: 404.478.8609
f: 404.478.8613
atlanta@abcimaging.com
Baltimore, MD
38 South Street
Baltimore, MD 21202
p: 410.779.4550
f: 410.779.4555
baltimore@abcimaging.com
Bellevue, WA
1521 130th Ave NE
Bellevue, WA 98005
p: 425.274.0792
f: 425.274.0795
bellevue@abcimaging.com
Bethesda, MD
7315 Wisconsin Avenue
East Lobby
Bethesda, MD 20814
p: 301.654.5333
f: 301.654.4564
bethesda@abcimaging.com
Boston, MA
76 Batterymarch Street
Suite 1 & 2
Boston, MA 02110
p: 617.399.0980
f: 617.399.0983
boston@abcimaging.com
Boston South, MA
274 Summer Street
Boston, MA 02210
p: 857-753-4241
f: 857-753-4286
southboston@abcimaging.com
Charlotte, NC
9524 Hebron Commerce Drive
Charlotte, NC 28273
p: 704.593.3380
f: 704.593.3383
charlotte@abcimaging.com
Chicago, IL
161 W Harrison Street
Suite C101
Chicago, IL 60605
p: 312.253.0040
f: 312.253.0043
chicago@abcimaging.com
Concord, CA
1381 Franquette Avenue
Building B1
Concord, CA 94520
p: 925.674.0900
f: 925.674.0993
concord@abcimaging.com
Dallas, TX
2001 Bryan Street
Suite 150
Dallas, TX 75201
p: 214.231.1332
f: 214.231.1137
dallas@abcimaging.com
Denver, CO
742 Kalamath Street
Denver, CO 80204
p: 303.573.5757
f: 303.573.8714
denver@abcimaging.com
Fort Lauderdale, FL
714 N Federal Hwy
Fort Lauderdale, FL 33304
p: 954.759.2037
f: 954.759.2041
fortlauderdale@abcimaging.com
Houston, TX
4902 Richmond Avenue
Suite C
Houston, TX 77027
p: 832.426.5815
f: 832.426.5818
houston@abcimaging.com
Irvine, CA
17240 Red Hill Avenue
Irvine, CA 92614
p: 949.419.3728
f: 949.419.3732
irvine@abcimaging.com
Las Vegas, NV
3395 W. Oquendo Road
Las Vegas, NV 89118
p: 702.947.6865
f: 702.947.6869
lasvegas@abcimaging.com
Los Angeles, CA
3550 Wilshire Blvd
Suite 124
Los Angeles, Ca 90010
p: 213.624.9626
f: 213.624.9629
losangeles@abcimaging.com
Manassas, VA
10498 Colonel Ct
#101
Manassas, VA 20110
p: 703.396.9081
f: 703.396.9084
manassas@abcimaging.com
Miami, FL
5760 SW 8 Street
Unit 200
Miami, FL 33144
p: 305.267.4141
f: 305.267.4511
miami@abcimaging.com
New York, NY
14 East 38th Street
New York, NY 10016
p: 212.490.3801
f: 212.490.3850
newyork@abcimaging.com

New York, NY
30-30 47th Ave
Long Island City, NY 11101
p: 718.707.8500
peeqmedia@peeqmedia.com

Oakland, CA
2327 Union Street
Oakland, CA 94607
p: 510.268.9980
f: 510.268.9984
oakland@abcimaging.com
Philadelphia, PA
1900 John F. Kennedy Blvd.
Philadelphia, PA 19103
p: 267.239.0211
f: 267.239.0253
philadelphia@abcimaging.com
Pittsburgh, PA
341 Fourth Avenue
Pittsburgh, PA 15222
p: 412.535.0225
f: 412.535.0228
pittsburgh@abcimaging.com
Reston, VA
601 Carlisle Drive
Herndon, VA 20170
p: 571.514.1033
f: 571.514.1034
herndon@abcimaging.com
San Francisco, CA
679 Bryant Street
San Francisco, CA 94107
p: 415.869.1669
f: 415.869.1073
sanfrancisco@abcimaging.com
Santa Monica, CA
12004 West Pico Blvd
Los Angeles, CA 90064
p: 310.966.1066
f: 310.966.1065
santamonica@abcimaging.com
Seattle, WA
102 Occidental Avenue South
Seattle, WA 98104
p: 206.357.0660
f: 206.357.0664
seattle@abcimaging.com
Silver Spring, MD
1300 Spring Street
Silver Spring, MD 20910
p: 301.495.7874
f: 301.495.9027
silverspring@abcimaging.com
Tampa, FL
3120 W Kennedy Boulevard
Tampa, FL 33609
p: 813.876.5400
f: 813.876.5800
tampa@abcimaging.com
Tysons Corner, VA
8474 Tyco Road
Unit C
Vienna, VA 22182
p: 703.848.2997
f: 703.848.4507
tysons@abcimaging.com
Washington, DC
1919 M Street, NW
Washington, DC 20036
p: 202.667.9222 or 202.429.0204
dc@abcimaging.com